~:OK so whatcha wanna know?
My Name is Amy, I Chat with the Nic's Twilight and Daffodilly or Daff for short. I am a Night Owl not that I like to be I just can't go to bed before 3am no matter how hard I try! But that's why I call myself Twilight!

I am 29 years old and been married 4 years. I have a 10 year old son Josh, My Daughter Cassie is almost 3, and Zac just turned 1 this summer!


My Favorite Color is Yellow and my Favorite Show is Sponge Bob! My Parents moved to Nashville 2 years ago & I wanna go. I like to do all kinds of things my weirdest to say hobbie for my age is crocheting while watching a good movie.

I'm a bartender at a supper club and grow a garden! You'll find out all kinds of stuff about me in my blogs so read them and pop by when ya can!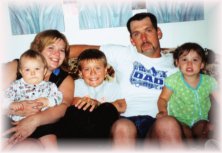 This is Me and My Family this past summer at home on the couch! I'm holding Zac, then it's Josh and Hubs with Cassie! Try to get my hubs to smile in pictures is like pulling teeth or so to say!

I'm going to add new and more pictures soon I hope as soon as I get some