I have been stamping cards, some scrapbooking and other things since 1996. Then I worked at a bank office where a lot of us gals would get together once or twice a month and stamp all kinds of things. Moving back home almost 5 years ago now I havn't found anyone with my hobby until this past summer when I seen an ad for a workshop in a nearby town and quickly called to say I was coming.

Even when I couldn't find a StampinUp person I still bought stamps at local stores and found a few at Walmart. My son and step daughters just love making things for themselves and friends also!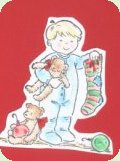 I just find it so nice to be able to reach into the box I keep all my cards in at anytime and find just the right card for any occassion. I have a shoe sized storage box I keep all my cards in and have dividers for the different holidays and special things! It's so nice to be able to handmake a card for someone!

I decided to make this website for fun and hopefully I'm able to share some of my idea's for anyone looking for a new look, because I know I always am.

Thanks for Visiting!

Amy






Here are Links to Photo's of my Cards I will be adding more as I make them!

Christmas Cards (9)
More Christmas Cards (4)
Birthday Cards
Anniversary
Valentines & Love
Thinking of You (11)
Receipe Cards
Cards for Babys (5)
Easter
Halloween Cards (2)
Thank You Cards (9)
Congratulations
Get Well Soon


NOTE: If you have a website or online photo album and you would like me to link your site from mine please Email Me and I would be happy to add your link.

Here are some of other stamp websites I have found online! Most of them have beautiful cards and give me hopes that someday I'll be creating some just as wonderful!

Stampin Up
Bridget's Rubber Stamping
Wendy's Stamp Gallery
Heidi's Cards
June's Cards
Stamp Resourses Directory
Kathy's Handmade Cards


Go Back to My Pages!

My Website
My Crochet Journal